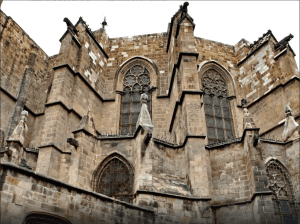 1992
Jose had curly hair and was quiet, but very smart. He didn't talk to me or look at me. I had a crush on him.
We had physics class together. Actually, we were in all our classes together at Instituto No. 1 de Basauri, Vizcaya, Pais Vasco, Spain. Instead of students changing to different classrooms each hour, teachers changed to different classrooms. So the naturally ripe petri dish of high school clique culture was amplified as everyone's time was spent closed in one room with the same 30 students.
I was there for a year – a very grey-green year of hanging mist. They had a special word for that constant half-mist, half-rain that floats in the air during coastal Basque winters: sirimiri. The 100% humidity – the clouds touching down to shining streets – that chills you to the bone no matter how well you dress.
And I didn't know how to dress. Certainly not for the weather – I was a nerdy American girl from Phoenix, Arizona without a budget to shop European. But also not in style. If I was uncool in high school, I was a disaster in Spain. I wore maroon tights. And baggy sweatshirts. And mom jeans. To top it off, I was putting about 3 pounds a month on my 5'2" frame as I ate sweet palmeras daily on my way to school. My jeans were getting tight, in a bad way.
But back to the story about Jose.
In the spring, the school organized a 5-day class trip to Barcelona. I signed up, of course. It sounded warm.
No one slept on the overnight train ride south – not the students, and no other travelers unfortunate enough to be sharing a car with us. There were card games, there was lots of running around, there was lots of alcohol. We arrived outside our hostel at about 10am, the overwhelmed philosophy teacher trying to corral 30 spastic teenagers free from home.
We were hours early for checkin. We were all milling about. For some reason, Jose looked at me and said, "Nos vamos, eh?"
So we left. We just walked off.
We found the nearest subway station and started hopping on trains and getting off at random stops. Sometimes we emerged into boring residential neighborhoods, but we also saw the Sagrada Familia church, went to Parc Guell with the curvy tiled benches, had coffee, ate tortilla de patata. And we walked around the pristine Olympic facilities, just built for use in a few months.
I don't remember when we got back to the hostel. The philosophy teacher was incensed. But we did it again the next day, and the next. We found underground bars open til daylight. I smoked my first cigarette and some hash. We went to a sex shop, watched dancers, and saw nasty videos in a tiny cabin. We walked on the wet cobblestone of La Rambla at 3 in the morning when all the flower stalls were closed and there were no mimes or live statues posing for change.
We never kissed. We never even held hands. Honestly, we didn't even really talk much.
And after five days, when we got back up to school, it was almost like it had never happened.
…
1996
I returned to Barcelona four years later. I had finished college and was doing the obligatory backpacking trip around Europe, except with virtually no money. I spent a total of $2000 in 7 weeks of backpacking, and that included the airfare and Eurail pass. I usually crashed on couches or slept on overnight trains. In spite of that, I was alone a lot. I was homesick after 7 weeks and came home to try to figure out what to do with my life.
…
2005
I got a job. And another job. And a first husband, and a first divorce, and a second husband. My company got acquired by another company – with offices in Barcelona. I managed to score a couple of work trips.
On the first trip, I was propositioned by a married Spanish colleague whose wife was pregnant. I went to the Old Town and wandered around and let myself get lost in the dark, gothic alleys and the plazas, some of which had rows of bullet pockmarks at eye level. I visited the Sagrada Familia and Parc Guell and remembered Jose, wondered why he chose me to hang out with.
On the second trip, I worked 80-hour weeks. The project I was leading was sinking. I didn't see the Sagrada Familia. I didn't see go anywhere or do anything. I needed to save the project.
…
April 2006
The project failed. My boss was fired and my entire office laid off. I left for Spain the very next day. Straight to Barcelona, then after a few days, to Ibiza. I sat on beaches, I listened to club music at pop-up bars on the sand, I let the last two years of stress and anger and guilt drift into the Mediterranean. I tried not to think about what was next, but I knew I didn't want to be a software developer any more. And, not surprisingly, my husband and I were having trouble. Working 80-100 hour weeks for the past year had taken its toll.
…
September 2006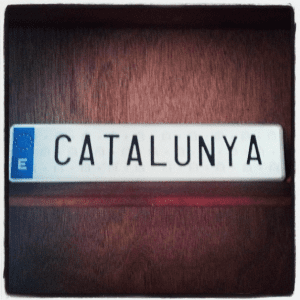 Four months later my husband and I returned to Barcelona and Ibiza. We made up for everything in a haze of ecstasy and house music and sandy beaches and shockingly expensive drinks. We convinced a license plate office to press us a real – and illegal – license plate that said "Catalunya." (Catalunya is the province in which Barcelona is located.) It was all going to be okay.
…
2007
Or maybe not. We bought a big house at the very peak of the market. The recession hit and we promptly started bleeding money. For the next four years.
…
2011
Before we were completely broke, I took another dirt-cheap trip to Europe, crashing on couches. At the SONAR festival in Barcelona I saw one of my favorite bands ever, Underworld. A cute, curly-haired French guy flirted with me. As I don't speak French and his English wasn't very good, we conversed mostly in Spanish. He liked swing dancing, which is weird at an EDM festival, but he was entertaining and persistent, so I played along. A slow dawn found us walking around outside trying to find a train, and when we did, we simply said goodbye. Like with Jose from 20 years earlier, we never kissed. We didn't exchange numbers or even full names.
The whole thing started and ended in Barcelona.
…
A live version of the song can be found here: https://www.youtube.com/watch?v=rbqask2xFio
We are also working on a much-changed version of the song for our next EP.
lyrics:
hotel rooms and borrowed beds
she indulges while i pretend
that if i have enough to drink
there will be no room to think
about the end or who i am
sleeping til the sun slants low
narrow alleys, hidden plazas, don't know where i go
she lets me disappear
a day, a week, a year
far from home, all alone
barcelona let me in
i am tired of who i've been
let me be somebody else
barcelona give me shelter
in your shadows and your spells
so i can leave myself again
before the new century made her shine
we ran away and we stayed up all through the night
just picking random subway stops not knowing
where we would get off
finding life at morning light
now it's a layered memory
she's my sagrada family
a new deja vu each time around
barcelona let me in
i am tired of who i've been
let me be somebody else
barcelona give me shelter
in your shadows and your spells
before i have to be myself again
let me try another life
lose me on a taxi ride
put my pieces back together
tell me we will live forever
barcelona let me in
i am tired of who i've been
let me be somebody else
barcelona give me shelter
in your shadows and your spells
before i have to be myself again