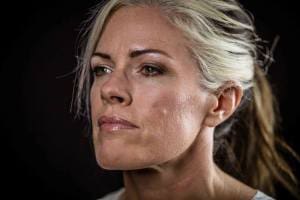 Some people know what they want to do with their lives pretty early.  I didn't.  It took me more decades than I'm going to admit to figure it out.  And when I figured it out, it seemed like it was too late.
I knew from the age of 12 that water skiing was a passion, and music was a lot of fun.  But water skiing is not exactly a reliable career path – especially for a 5'3" woman – and my family consists largely of doctors and lawyers, so I never thought either one was something people actually did for a living.
After graduating from Stanford I remember trying to figure out what to do with my life.  I never thought a career in sports or music, not for a single second.  I only felt that terrifying but exhilarating vertigo that the rest of life was a blank slate – completely open to possibility.
As I looked around at people older than me, I saw people stuck just by habit or fear or decisions made a long time ago.  And I realized something I promised to never forget:
The rest of life is ALWAYS a blank slate.  
Not just now, fresh out of college.  Every single day.  Tomorrow is ALWAYS full of possibility and choice.
So this Phoenix-raised, San Diego-summered, Bay-Area-educated girl looked at the blank slate in front of her and chose to follow two paths at the same time.
I followed my dream of professional waterskiing by moving to Florida water skiing three times a day, five days a week.
And, because waterskiing isn't a career, I got a job at a banking software company.
I didn't sing.  It was time for Real Life.
…
Over the next ten years, I became a world-ranked waterskier, ultimately retiring from waterskiing satisfied and happy.  I also got married, got a dog and a house, got divorced, lost the dog and the house, and got married again.  And in my work life, I became a web software developer and project manager.  I moved to Colorado to follow a dot-com startup job that ultimately turned into a corporate job.
And then, ten years into my IT career, I got laid off.
So there I was, 33 years old, retired from my passion of waterskiing.  Now I had no job either.
Empty, terrifying, exhilarating blank slate.
I remembered that old advice-to-self:  the future is always open.   Did I want to become an investment banker?  (I had an offer from a friend.)  Go to law school?  B-school?
I was on a hike one day when I remembered I used to like to sing.  I hadn't done it in years, not really since freshman year of college when I was in an a cappella group.   I started taking voice lessons for fun.  I had time, after all.
…
And then I started meeting musicians.  I met established musicians who apparently saw potential in me.   I was surprised they wanted to spend time with me.  I remember the milestone of making my first cash singing as a backup singer for a Nigerian Afropop artist at a great venue called Nissi's.  I was surprised that you could get paid for something so fun.  Then my voice coach asked if I wanted to start a band.  We did.
We started making some decent money.  I started to believe this could be a job.  At least a side job.
I started teaching people how to sing.  I started joining bands, and starting bands myself.  At one point I was in a wedding cover band, a Brazilian jazz band, an R&B/funk/Motown cover band, and an original funk-rock band at the same time.
But tell you the truth, for the first three years, I did NOT enjoy teaching.  It was draining and I wasn't very good at it.  But we needed the money, and the thought of working in a cubicle again made my skin crawl.  I kept going.
The more serious I got about music, the bigger the doubts got.  Starting a career in music at the age of 33?  Who does that?  This is a young person's game, right?  It felt impossible.  Like walking straight into failure.  Silly and embarrassing.
Then, my main band partner and I parted acrimoniously.  I will refrain from saying anything except to credit her with one huge lesson:  I learned to reserve trust in business situations.  I was angry every day for a year.  I've never had a romantic breakup that hurt that much for that long, which is probably a disturbing comment on my love life, but it's a fact.
But I kept singing, and writing music, and teaching anyway.  Sometimes the only reason I did was because I knew I hadn't really gotten the hang of it yet, and I didn't want to live with regret of things I didn't do.
…
Over the years, I became a good voice teacher, and a decent singer.  I learned to play drums, bass and piano.  I learned how to record, how to write songs, how to book gigs, how to be comfortable on stage in spite of bad stage fright.
It's been very up and down.  I no longer belong in the IT crowd, but I'm also not a native to the music world.  I'm older, ergo, less cool than a lot of my twenty-something musician friends in the Denver music scene.  I've poured all my money and energy into the band trying to get everything to the level I want.  But I haven't known what I was doing, so I've wasted thousands of dollars.  I don't even want to think about it, really.  I could be driving a new car – or have hired Ryan Tedder to produce – for all the bad financial decisions I've made related to the band.
And recently I got a mean comment on one of my youtube videos that hit where it hurts most:  right on the truth bone.  I would quote it for you, but I deleted it from my email.  This troll said that my band had a "serious identity problem" and that she "literally laughed out loud" when she read the description of what we sound like.
Well, yeah.  She's right.  We have struggled with identity.  Here's why:
I'm new at this, and when you start making art, you're not good at it.  Whether a painting, a sculpture, a song, a play, a even a software application or a house – you may have a vision, but not the skills to bring that vision to life the way you want.  That doesn't usually happen until you've done it a bunch of times.   Well, I haven't been doing this very long.  And yeah, our music and our shows never seem to turn out quite like I want them to.  Thank you very much, Youtube troll, I'm already quite aware of my shortcomings.
…
While I bumbled around in music for a decade, my non-music life went downhill.  Due to my career change and the recession – which derailed my husband's real estate career for about five years – we made very little money for several years in a row.  We ended up losing everything.  We hit rock bottom and had to start over.
The one good thing about losing everything is that you learn how little you really need to survive.  You learn who and what is important.  You don't need stuff, you just need to wake up every day and find something to appreciate, or at the very least, keep trucking til tomorrow.  We came out on the other side and we were okay.  Pretty bruised, but okay.
Another clean slate.
…
We moved into a small apartment.  I got a studio space for lessons.  I wasn't sad to leave behind the stained basement concrete floors mostly covered by a patchwork of mismatched yard-sale rugs.  I started getting more students and finding my niche as a teacher.  The year I turned 39, I started a pop/rock band named after me (Adrienne O) and eventually we started to play some really good shows, like the Gothic, Bluebird, and Fox Theatres.  We made music videos I'm proud of, released two EPs, had some fun.  I built some products, hired additional teachers, got a second and then a third studio space.
It finally seemed like we were on the right track.  And I'll be honest, I thought the road would be finally smooth for a while.
But then everything evaporated for the band.  Only one badly attended festival, no more big shows.  The band almost fell apart last summer.  I got depressed.  I was just tired of pushing that boulder up the hill and having it roll back down on me whenever I'd stop for a second.  Maybe it was true that I just started too late and I shouldn't have started at all.  Maybe it was all just a big waste, a delusion.
Then to top it off, I went to a music conference and had my confidence shattered.  I heard my songs stacked up against much better songs that were much better produced.  I saw singers who were younger, more talented, and prettier than I'd ever be.  I felt that huge gap again between what I want the art to be, and what I have the skills to make right now.
I was tired of it all.  I was sick of thrift store shopping and buying the minimum of groceries because I only had the cash in my wallet from voice lesons.  I was tired of writing so many bad songs.  I was tired of teaching as many lessons as I could summon the energy for, just to have the money evaporate into band gear or music videos or CDs or posters or ineffective Facebook advertising.  I wondered whether it was really worth it.  And I thought about giving it all up.  The easy road would be to shut down the band, stop twisting peoples' arms to come to my shows, and just focus on teaching – which I'm really good at now. I could have more time, make more money, buy nicer clothes, live in a nicer place, eat out at a nice restaurant once in a while.
I could clean the slate again. 
And I really thought about it.  I imagined it.  I tried it on for size.
But instead of exhilaration, this time I felt gray emptiness.
And I realized I actually need to make music.  I don't just want to.  I need to.  It took a lifetime to figure out this calling, but it's been in the background the whole time, waiting for me to pay enough attention to it.  Like a seedling just waiting for enough sun and water.  And it's been growing stronger and stronger over the last ten years, to the point where uprooting it would leave a big hole in my heart.  The same as if they took that big shade tree out of my backyard.  I need it now.
Who would ever have thought I'd seriously try to become a pop singer at this age?
It took me three lives to figure it out – 15 years as an athlete, 13 years as a software developer and a decade as a musician – but this is where I belong, now and for the rest of my life.
This is why my record label is called Third Life Records.
…
Like I needed to reach rock bottom with money to find my truth about it, I had to get to rock bottom with music to find my truth about that too.  Sometimes the light is found only on the other side of darkness.
So we finished the EP, and we filmed our third music video.  The vision for the video came out of those dark times.  I've been reborn as an artist and a person in these last 12 months, and the video shows it.  In spite of the skimpy outfit, it's less glamourous than everything we've done before.  I'm not wearing much makeup and I didn't style my hair.  It's an honest portrayal of the black mental box I found myself stuck in.
It's something we all do. We all limit ourselves mentally at some point.  We get depressed.  Sometimes it's hard not to.  But you just keep trying.  And if you do, you'll get out.  You'll get where you're going.  You'll find your own truth even if it doesn't look like everyone else's.
…
The EP is called Elevation because it's a step up from where we've been.  It's a step up in quality of songs and production.  It's a step up in emotional outlook.  And it's a step up toward where we're heading.  This EP is a skybridge from the past into our future.  The future won't look like this, but the past doesn't look like it, either.
And for once:  no more clean slate.  We're building on the past, not sweeping it away.
Elevation will be released exactly ten years* after I got laid off.  It's a fitting anniversary.  Like the layoff, this album is a turning point between past and future.
…
I have a different set of parameters for success now.  Of course, I'm not going to be a pop "star."  But I AM a pop singer because that's my best vocal style, and it's also the kind of music that comes out of me, left to my own devices.  (To be clear, at the moment it's alt-pop or indie pop, not top 40 pop.)
Success isn't about how many youtube views or facebook likes we have – although those numbers can help other more "real" things happen.  Not any more.  I know what I want our music to sound like, and I know what I want our shows to feel like.  Success will come when I'm able to make those perfect visions come to life in this imperfect world.
We're not there yet, but we're closer than we were a year ago.  And that's all you can really ask.
If you feel kinship with this journey and want to be a part of it, I welcome you.  Join our email list, read the blog, listen to our songs.  Come to a show or buy some of our music if you can.  We'd really be thrilled if you would come to our private EP release party and/or buy Elevation – either pre-order now, or get it when it's out.  Your support helps us keep on keeping on.
And if not, that's cool too.  I'm going to keep making music anyway.
* Ten years and seven days, to be exact.