We're starting a new chapter in the band, and we're kicking it off with this video.
This one's different.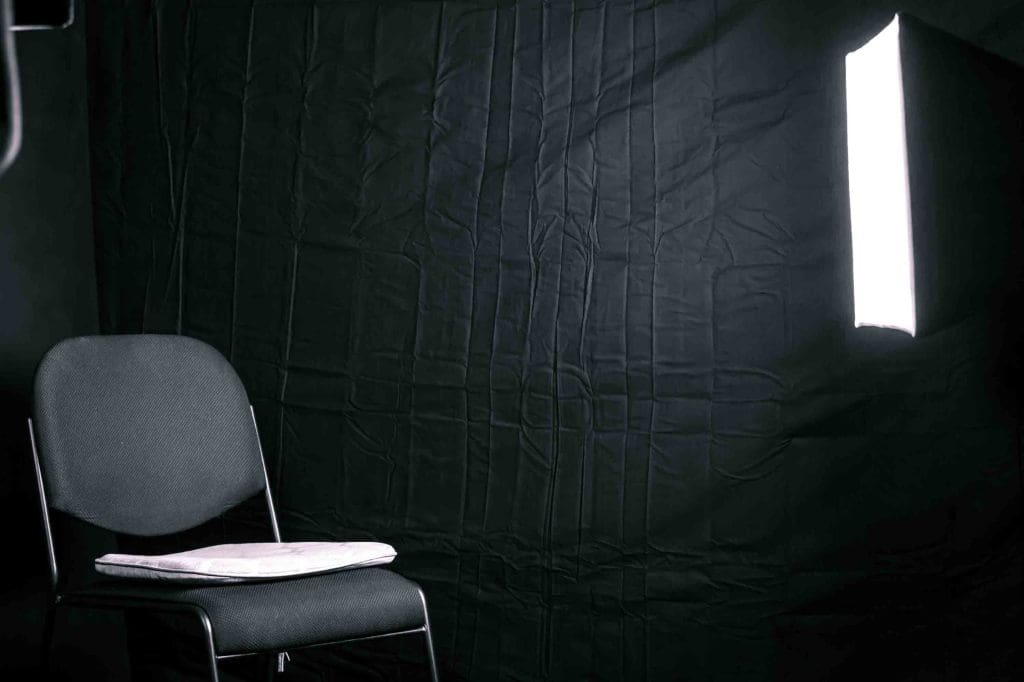 Photo:  Scott Brayshaw
I've always been reticent to use my body in our videos, but this video features my body throughout. I will even appear to be naked in some fleeting shots, thanks to a nude-colored bodysuit.  Why the shift?  Well, I've become more confident about my body (finally) but mainly I just care less what people think.  I spent the first 3/4 of my life fighting food and my weight and not liking my body.  But now I love this body, short limbs and white skin and all, because it is strong and healthy… and it responds instantly to hard workouts and a good diet.  I realize now how lucky I am.  Oh, and genetics gave me a very round butt that I used to be embarrassed about, but I've grown to understand that it's sexy to some people at this particular cultural moment in time. My husband says it has a fan club. Whatever. OK, wanna see it? Here you go. This is my butt.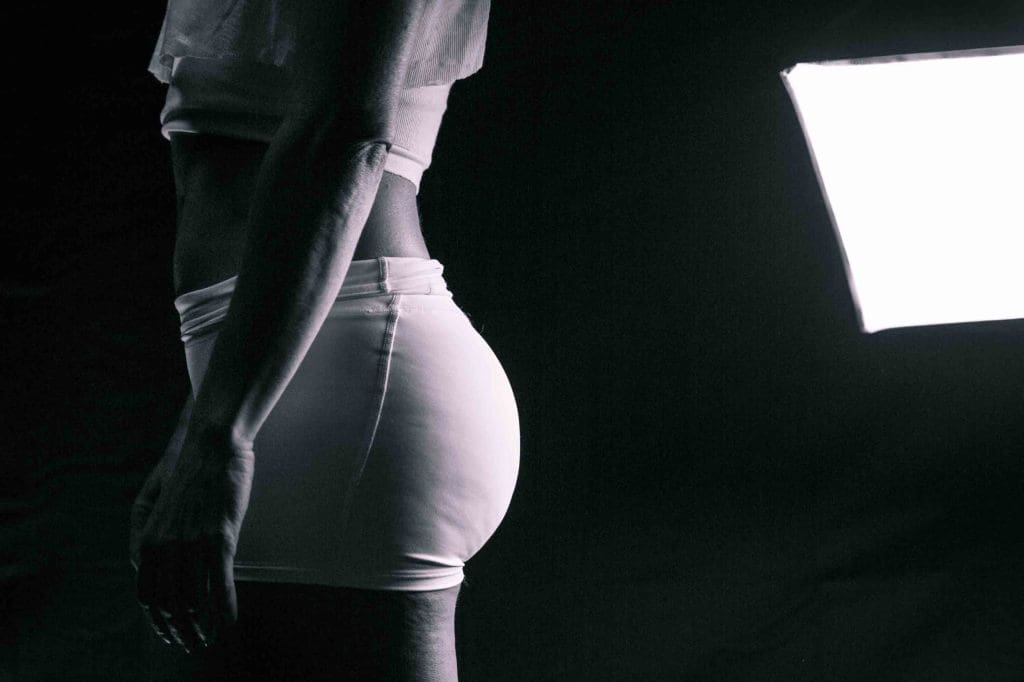 Photo:  Scott Brayshaw
Gratuitous?  Sure.
Second, this video is more artistic and creative than anything we've done before.  It has several parallel mini-narratives, but no clear story like in our previous official music videos.  The video involves a milk bath, breaking lots of things in slow motion, breaking out of a metaphysical black box, and digging through a floor, among other things.  The theme of the video is state change, which reflects the emotional changes and growth that both I and the band have gone through in the last 12 months.  But past that, the conclusions are yours to draw.
Here's how we shot the video.
8AM – The Backyard of My House
We met at my house at 8am.  It was 18 degrees, but sunny for the first time in a week.  We cleared snow, set up a double plastic sheet over a concrete walkway, and added lighting.  I filled several thrift-store ceramics with tinted water, and we filmed in slow motion as I dropped them from a height onto the concrete, resulting in some very messy but satisfying explosions.  We protected Noah's camera with a sheet of Plexiglas.  The concrete did absorb a lot of food-colored water, but by the next day somehow it was gone.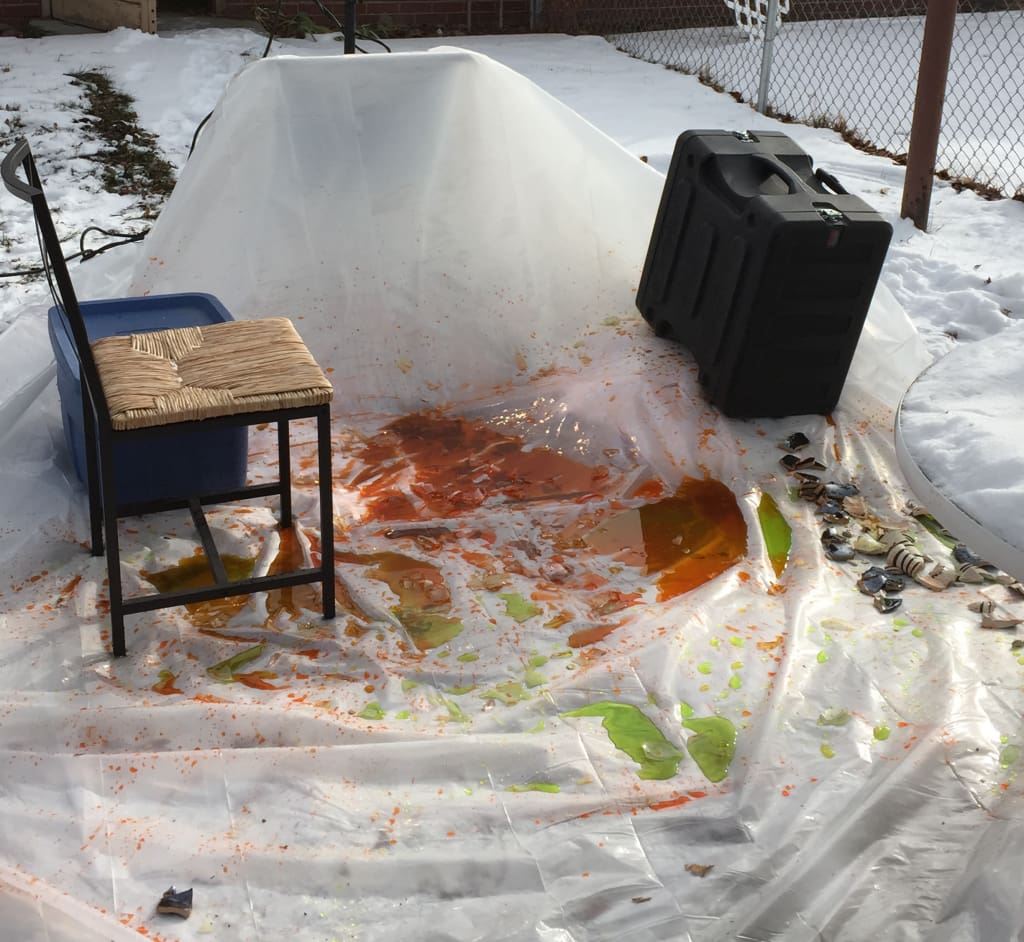 10AM – The Studio
I hadn't done any hair or makeup yet, but that was fine for this shoot.  So I put on about as much makeup as I wear on a daily basis and threw my hair up into a ponytail.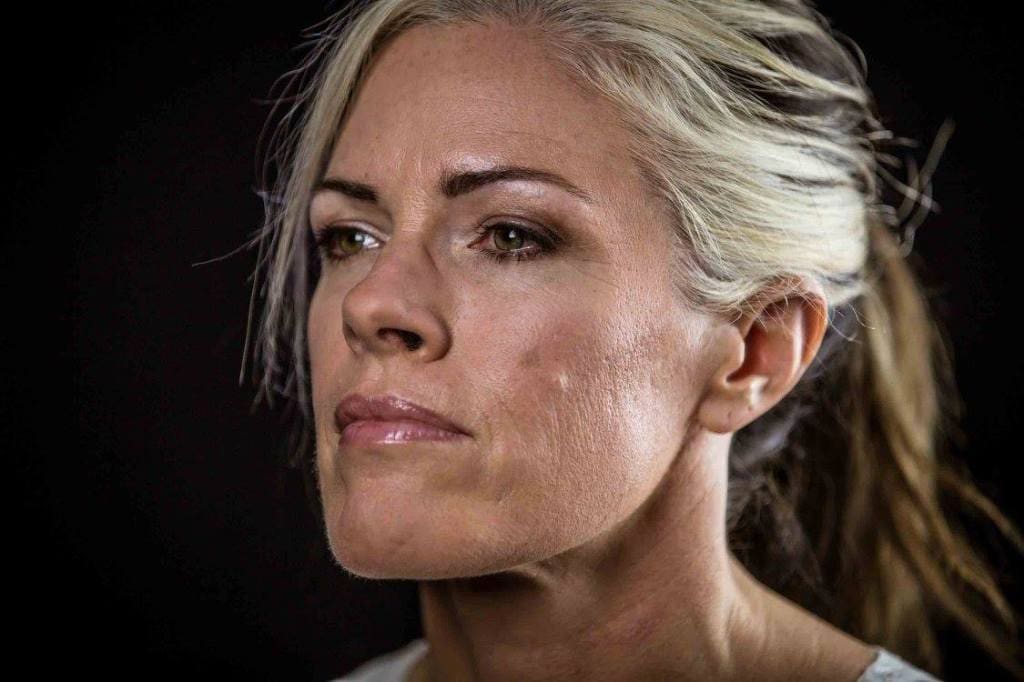 Photo:  Scott Brayshaw
Justin and I had spent the previous week gathering and preparing materials.  We had two sheets of sheetrock painted black, 30 cinder blocks, three black king-size flat sheets, a bag of potting soil, a bunch of plastic sheeting, some lighting I've been buying for our 2016 shows, and a fog machine.  We created a fake wall by placing the cinder blocks between the real wall – which we protected with a thick quilt – and the drywall, and we put a black sheet on the wall and the floor.  This created a metaphysical, context-free space to represent the concept of limitations.  (Think limiting beliefs, past wounds, your life situation, anything holding you back.)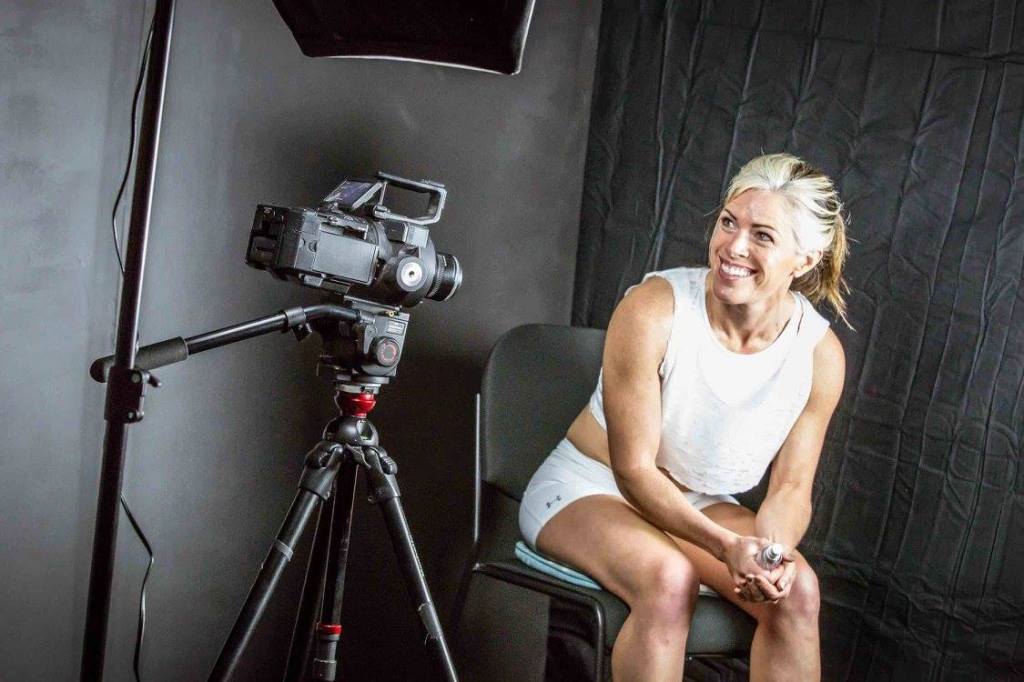 Photo:  Scott Brayshaw
First we got a few lower-energy shots.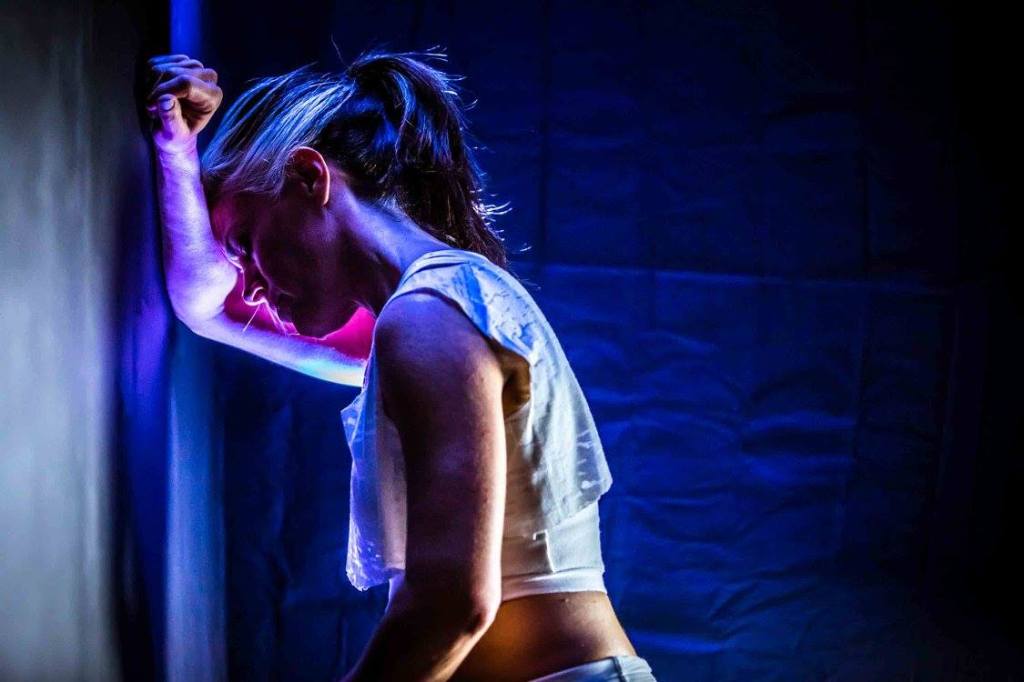 Photo:  Scott Brayshaw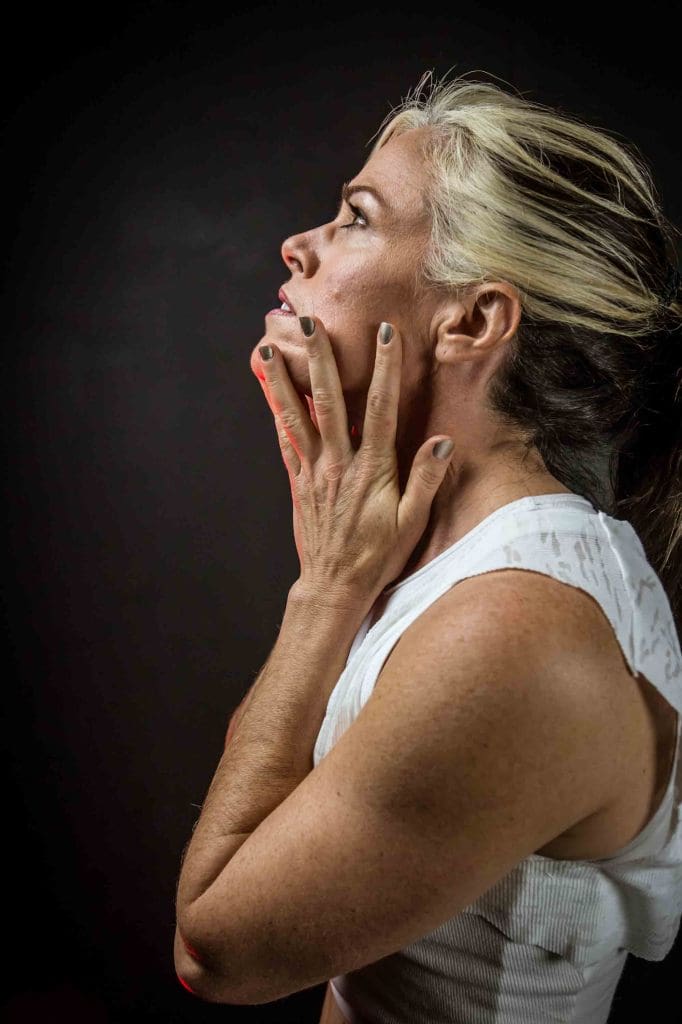 Photo:  Scott Brayshaw
Then I started throwing myself against the real studio wall, since it was far more sturdy than our fake wall.  I took some real flying leaps!  And I punched pretty hard, but always with the fleshy side of my hand or my forearm flat against the wall.  I was saving the knuckles for the hit through the wall later.  Plus, I didn't want to damage our studio wall.  No need to incur more expense.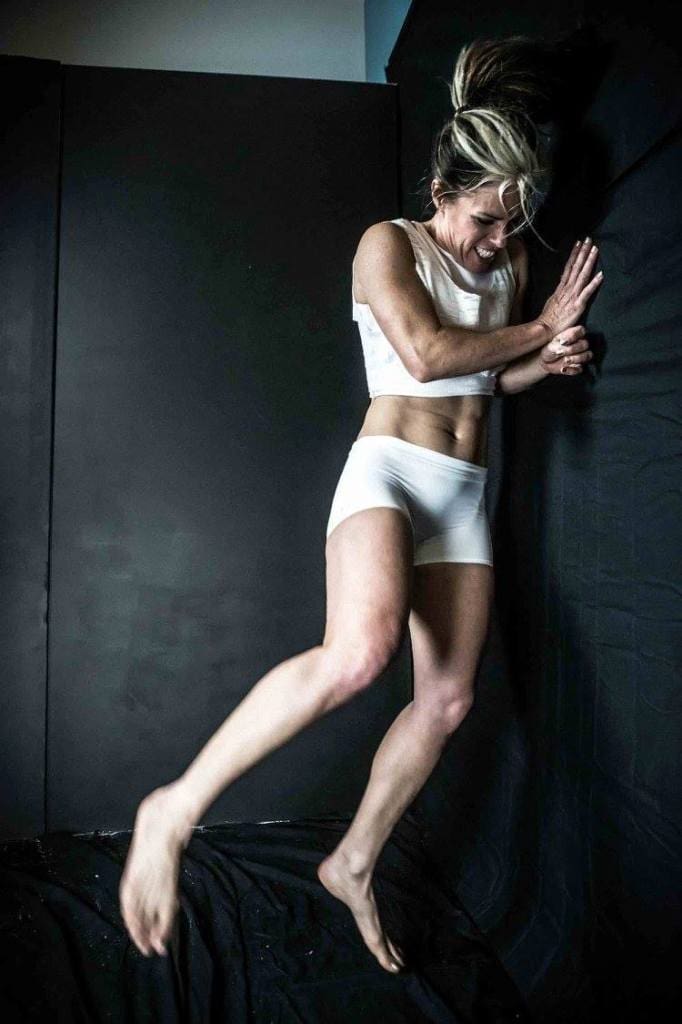 Photo:  Scott Brayshaw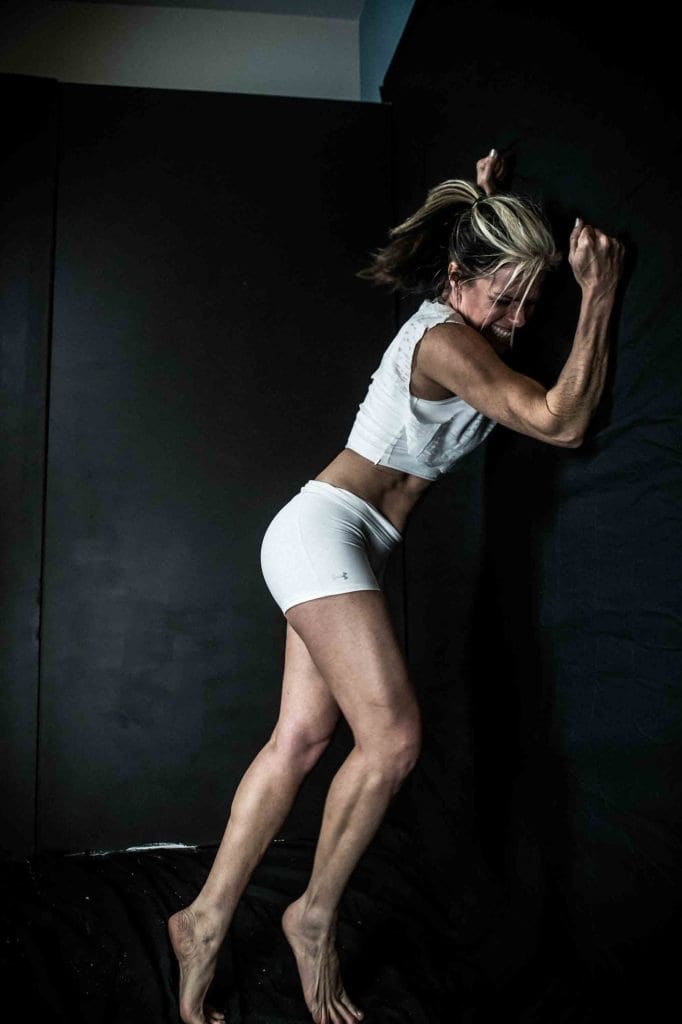 Photo:  Scott Brayshaw
12 NOON – The Studio
Justin and Noah used a hammer to soften the drywall from the back side of the spot I was going to try to punch through.  Everyone was a bit nervous thinking I might really hurt my hand.  I didn't let those thoughts enter.  I knew the only way to get this one-shot image captured was to commit to it.  We set up a light and the fog machine behind the drywall, got the camera in focus, and Noah called "Action."
I thought about how in my Fit36 classes when we have a punching bag in the circuit, I like to power my punches from my hips up through my shoulders for a nice solid POW!  So I grounded my feet in a ready stance, gathered power, and threw a single punch with all my force, and it went straight through perfectly on the first try.  The slow-motion video shows the impact rippling up my arm while the drywall spits out white powder, backlit from the LED on the other side.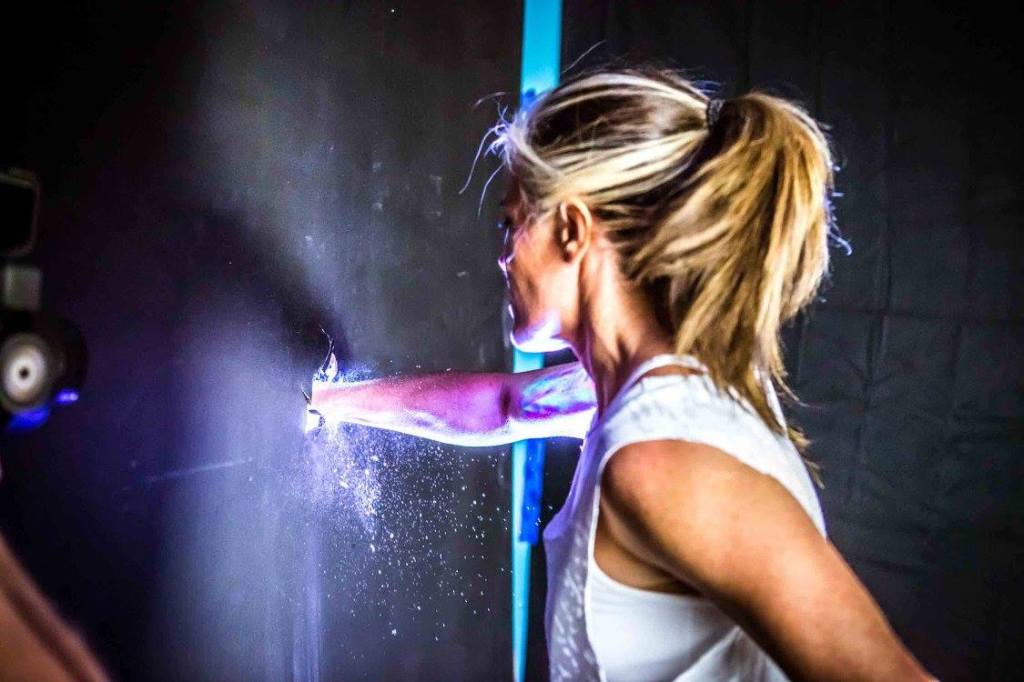 Then we captured a few shots where I pulled my hand back out, followed by fog from the fog machine.  We had to time the pull of my hand with the trigger of the fog machine, which took a few tries, but we finally got it.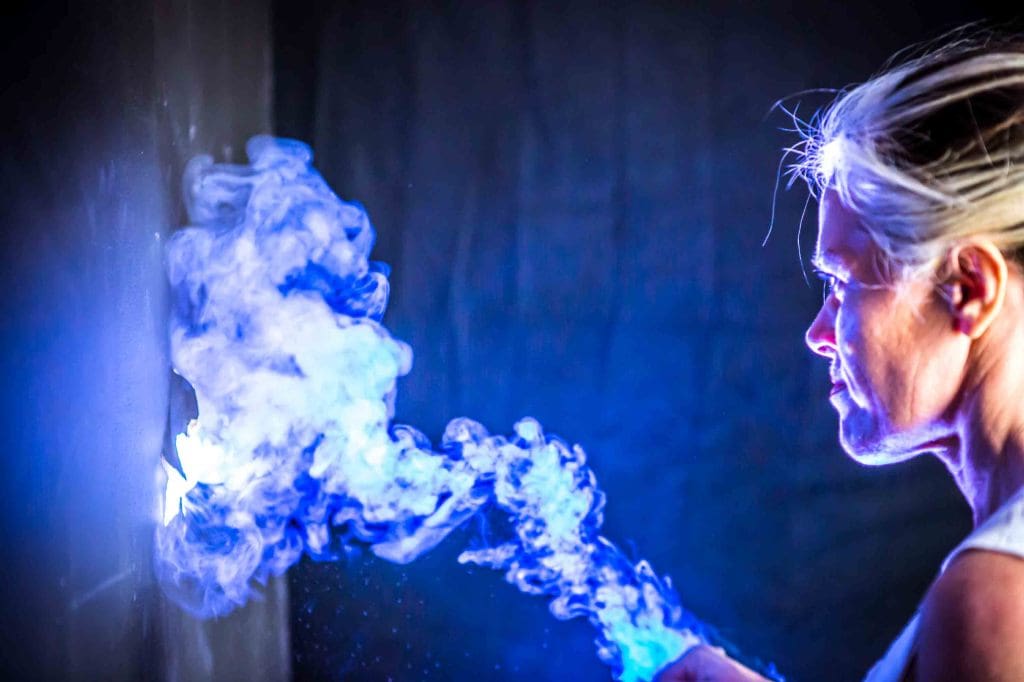 Photo:  Scott Brayshaw
2PM – The Studio
We took down the wall and made a cinder block platform upon which we set the wall with the hole in it.  Underneath, we set a bucket containing a bag of dirt and a light.  Here we captured shots of me pulling dirt out from beyond the wall, mystified by what it is and how there is both light and dirt on the other side of this wall.  Or is it a floor?  We don't know.  We also used the Plexiglas again to capture shots from the other side, from a perspective of being within the dirt as I dig through it.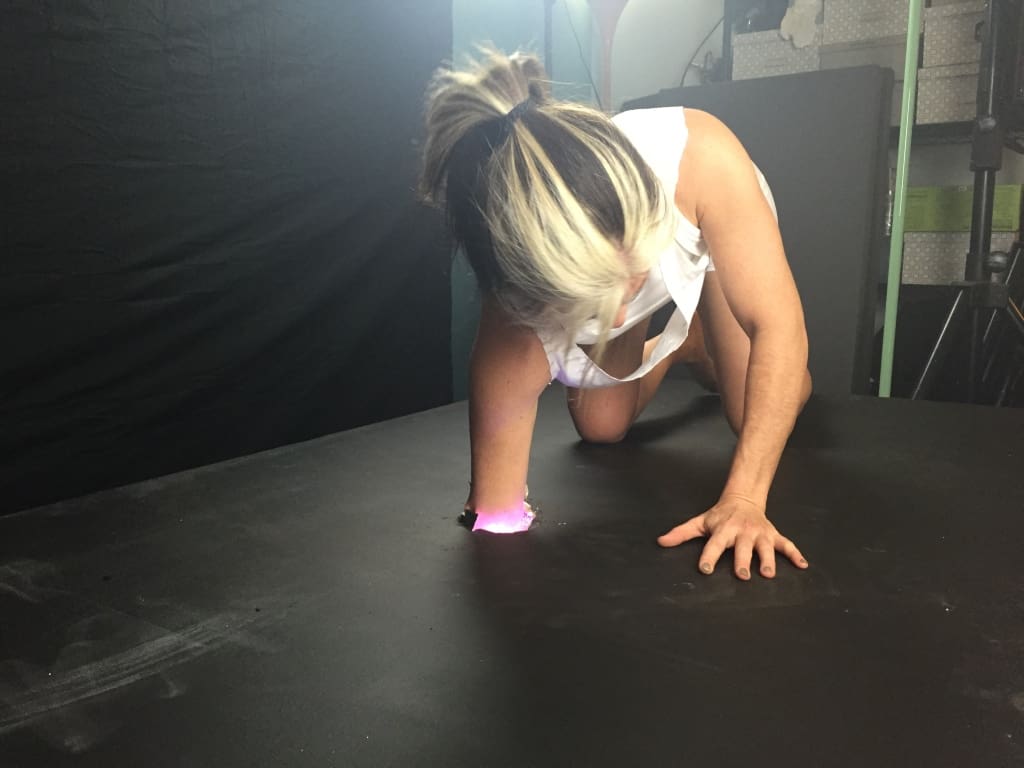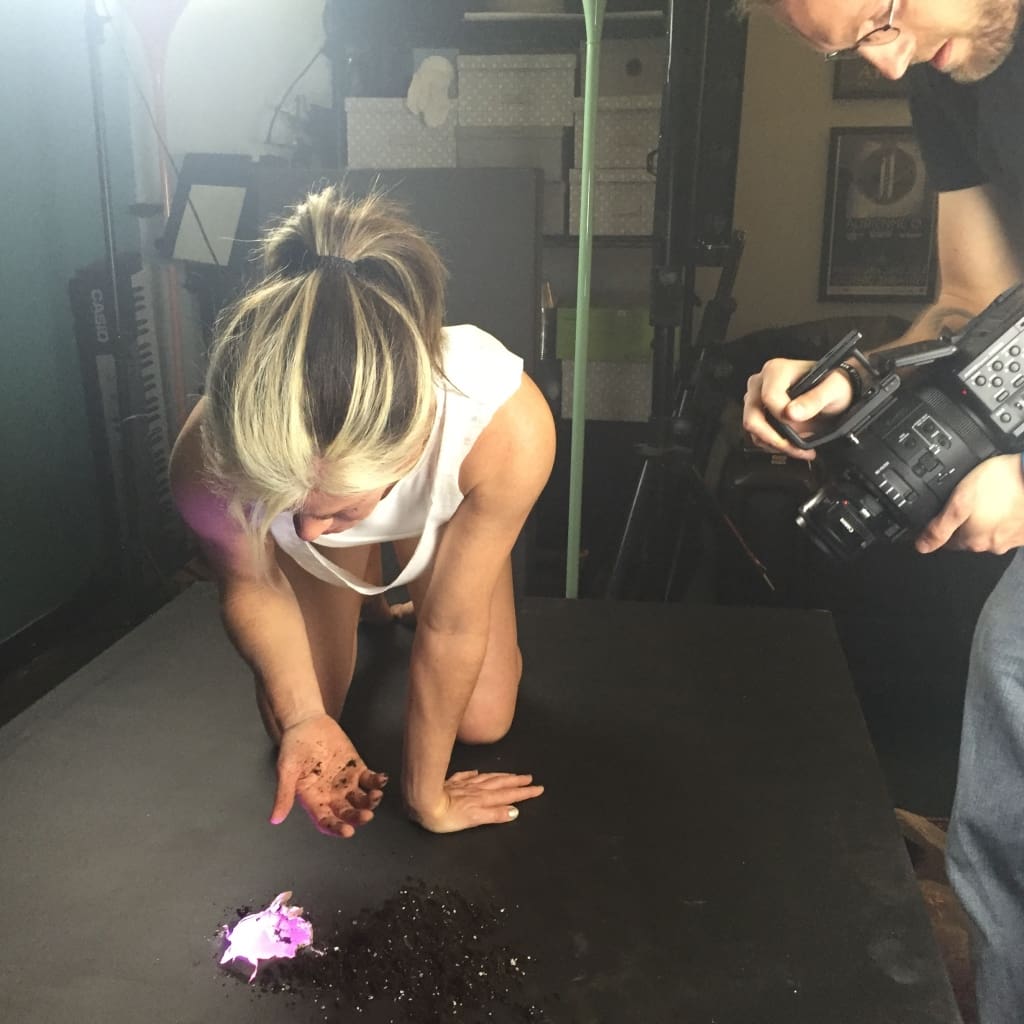 3PM – The Walnut Room Parking Lot
Before the sun went down, we captured some late-afternoon sunlight for the end of the film.
4PM – The Studio
Costume change into nude-colored leotard.  We created a cinder block platform for me to curl up on and draped white sheeting over it.  We set up all the lights I have, including two new 8-light roving bars, and set them in motion using a DMXIS controller and ShowBuddy.  We shot some psychedelic scenes of me unfurling from fetal position within the chaos of the flashing and roving lights.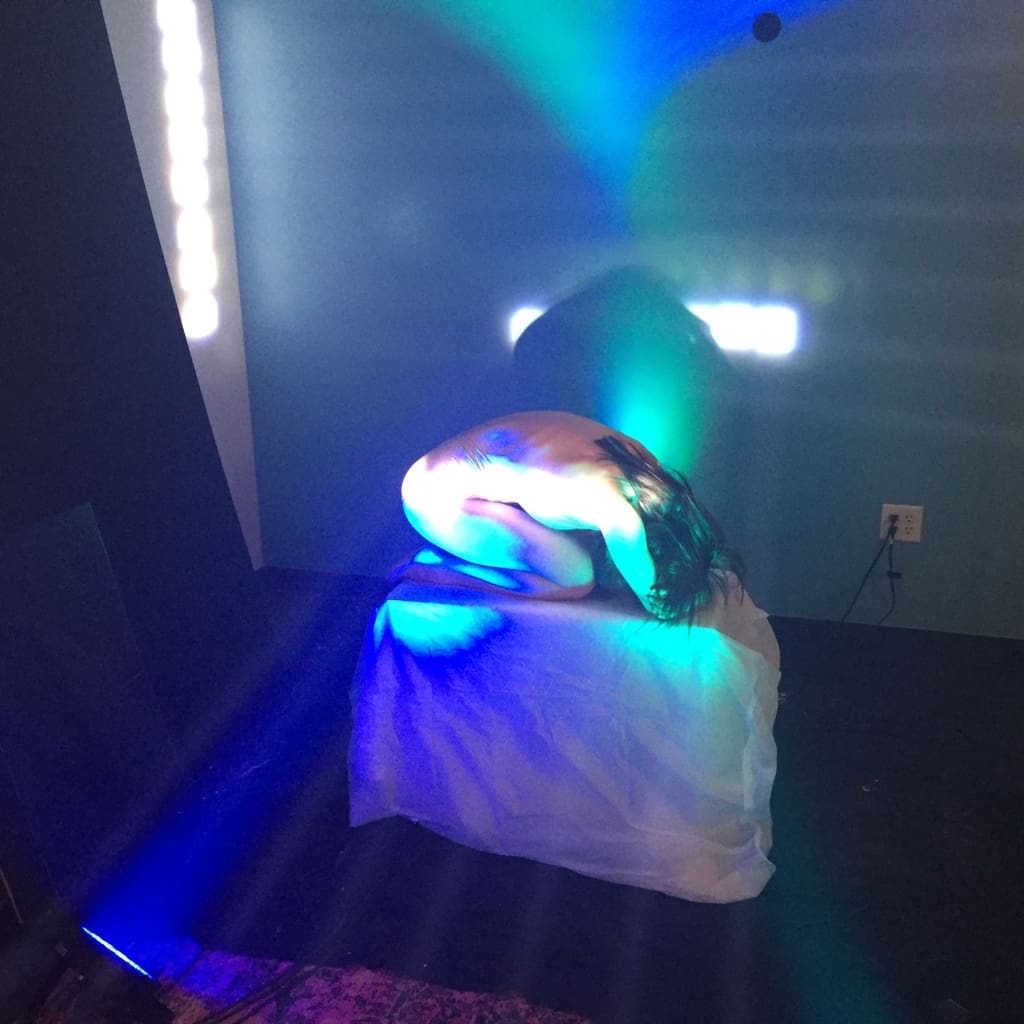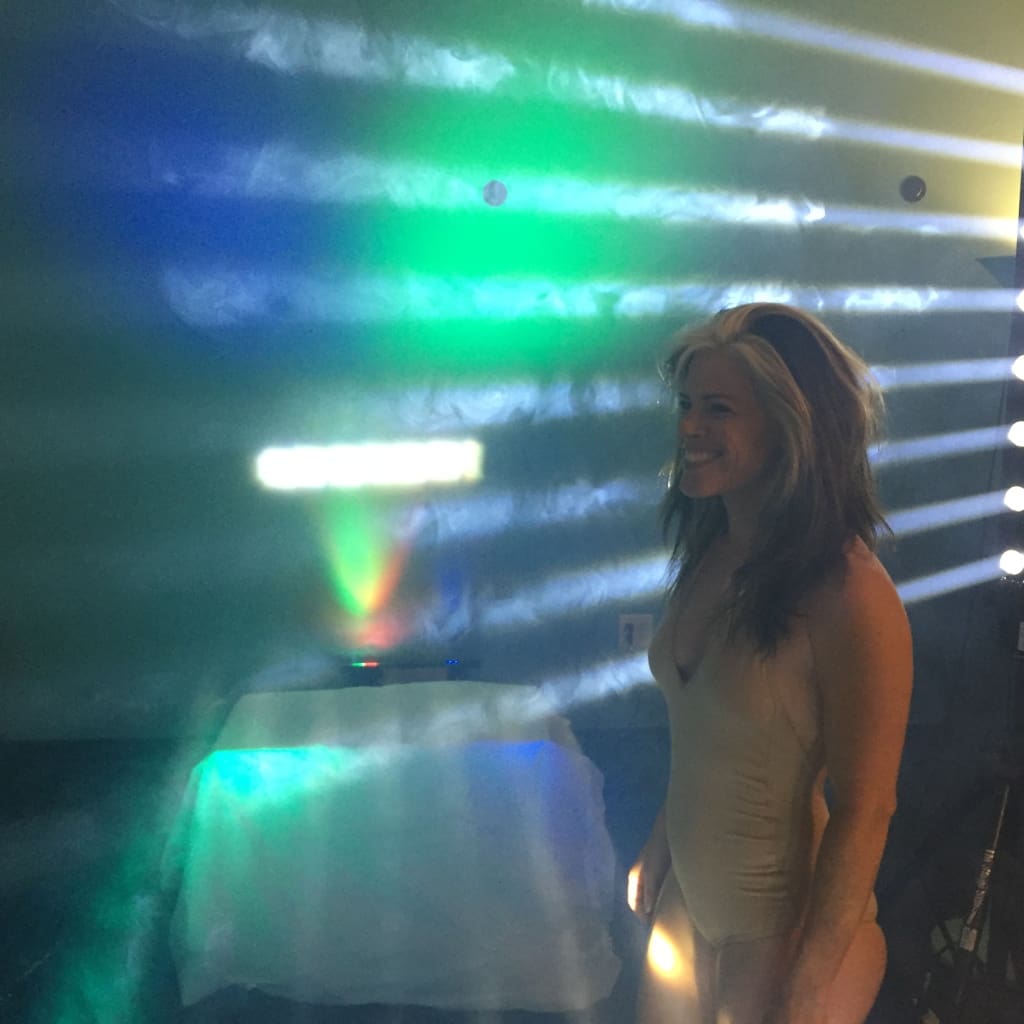 5PM – The Studio
Justin had gone on a wild goose chase that morning looking for the exact light bulb that we saw in the El Chingon taco restaurant two nights before.  It turned out that the supplier they gave him was actually a guy who works out of his condo, who wasn't home and wasn't answering the phone.  After trying two different addresses for Mile High Lighting, Justin finally found a similar bulb at Home Depot.
We replaced the white sheeting with black sheeting and I stood on a chair holding the lit vintage light bulb plugged into a free-swinging light fixture.  We turned off most of the lights in the studio so there was only black background, Justin got ready to hit the power strip in case I electrocuted myself, and I dropped the lit bulb onto the cinder block platform where it exploded in a burst of light.
After this the studio was a complete war zone.  There were drywall chunks and glass on half of the floor, thick haze in the air, and cables and trash and cinder blocks and stuff EVERYWHERE.  Even though most of the shoot was barefoot, by this time I kept my snow boots on.  But we were all tired after 11 hours of shooting, so we left it and headed back to my house.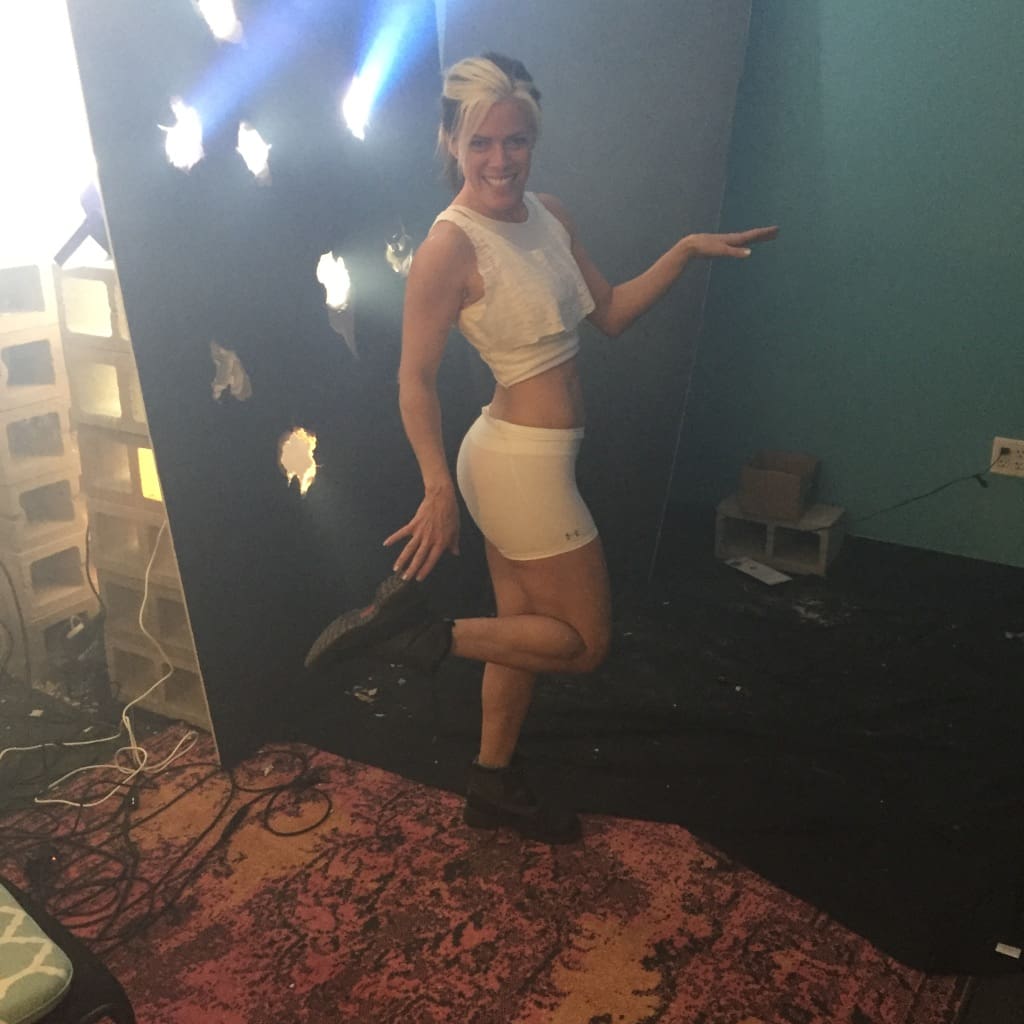 7PM – The Bathroom at My House
I poured an entire economy-size nondairy creamer into a warm bath and stirred it until most of the chunks dissolved.  It looked disgusting, and I discovered when I lowered myself into it that it was also quite slimy, probably from the fat content.  Some of the water was smooth and white as we wanted, but about half of the tub had a thick layer of chunky powder that wouldn't dissolve.  So for each shot, I had to push the top chunky layer out of the way before we could record.  We were too tired by this point to remember to take any photos, so you don't get to see this part until the video comes out.
The day finished with me laying back and ducking my head all the way under  so that I could emerge from under the surface.  When I went under, I realized that in order to keep the milk from going up my nose I had to blow bubbles out, but I didn't want bubbles to be visible in the video.  So I stopped exhaling and let the water just go up my nose.  I opened my mouth and slowly emerged up from the milk bath, almost as if being born.
And then I snorted the disgusting creamer out of my nose and took a shower immediately.
The video will be released in March.  To be the first to see it, sign up on our email list at https://www.adrienneo.com. 
Produced and directed by J. Leighton Long and Adrienne Osborn
Filmed and edited by Noah Mittman, Snowman Films
More photos from the shoot are on Facebook.