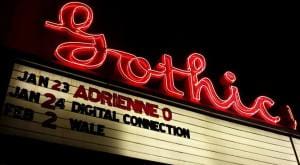 We went all out on this one.  We hired lights, we played new songs, we added a backup singer, guest Megan Burtt played keys, we rehearsed some stage blocking, and I even changed clothes a couple times.  Here's what we learned…
Headlining can make your head big, real quick.
It was comical how much Respect-with-a-capital-R we received as the headliner.  I almost burst out laughing when the venue manager asked if we wanted the other bands to have access to the green room or if we wanted it all to ourselves.  Sure, we headlined, but we'll be opening again real soon – likely for one of the bands opening for us!  I can see how the Respect could go to your head real fast if you thought you were all that and a bag of chips.
Dress rehearsal was crucial.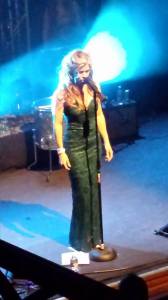 It took about 20 times through each of the two costume changes to execute them in a reasonable amount of time, without ending up with my bra on sideways or an in-ear cord wrapped around my shoulder.
But we still didn't rehearse enough.
Given the holidays and the fact that we were just pulling together several new songs, we didn't finalize the set list until three weeks before the show.  We ended up with one rehearsal to solidify all songs, one rehearsal to work on transitions, and one dress rehearsal.  Not nearly enough.
Guitarist Justin says that when he toured with No Address under Atlantic Records, they would do at least three, and sometimes up to 30, rehearsals running the same set over start to finish  Everyone hated doing it.  It was boring and mind-numbing.  But the set was always tight from start to finish.
Having an assistant saved my sanity.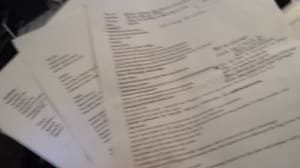 Normally I am a complete mess the entire day of the show, as I talk about in my Tequila and Ice Cream Diet Secrets vlog.  This time, I hired an assistant just to help out for the clothing change  It turns out she has a degree in stage management and several years of experience being a theatre stage manager.  She was immediately there to handle any little detail I threw her way.  Given that the image above is what my day-of-show checklist looks like, she saved my sanity.
If you are interested in hiring her, her name is Anastatia Ricketts and here is her website.  I couldn't recommend her more highly.  She is also interested in tour management, and after working with her I have no doubt she would be good at it.
I need to do more sprints.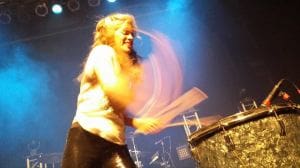 I might look like I'm in shape, but I'm coasting on 15 years of athletic endeavors that ended over ten years ago.  If I'm not going to look and sound like an panting, aging, out-of-date rocker, I gotta seriously step up the anaerobic activity.
In-ear monitors, YES.
I skipped the in-ears for the one song I did in a dress.  I had also had the floor wedges removed so that I had more room at the front of the stage.  So I sang "Back to the Shadows" with only reflected sound as my monitoring source.  I thought I could do it, but I'm not happy with how I sounded on that one.
Wireless microphone, YES.
I used a wireless microphone for years, and then when I started using a Telefunken M80 (thanks, John Larson), I couldn't bear not to use it.  It sounds THAT MUCH better.  But I would step on the cable and rip it out of the microphone at least once a show.  For this show, I borrowed a wireless transmitter that plugs into a normal wired mic, so that I could use the M80 but still go wireless.  I felt ten times as free on stage as when I was constantly worried about stepping on or snagging a cable.  Definitely doing that in the future.
A big venue is really hard to pack.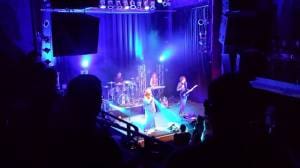 Obvious, right?  Well, still, lesson learned.  There were fewer people at the Bluebird in November, but it felt packed and alive because the capacity is about 550.  There were about 360 people at the Gothic on Friday night, but given that the Gothic seats 1100, it didn't feel nearly as vibrant.  The balconies and upstairs bar absorb people, making the floor feel emptier than we expected.
Now I get why pro lighting is f'n expensive.
We hired Skinny from SSS Productions and he killed it.  He showed up at 4pm and wasn't done til 2am – with an assistant and a huge trailer full of gear.   What a long day.  I get now why professional lighting is expensive.  It's lots of gear and LOTS of time, and has a huge impact.
Using your phone for credit cards sucks.
Because then you don't have your phone on you.  It's at the merch table.  Makes it impossible to take photos of the other bands and to hook up with people in the venue.