A modern Blondie singing a mix of The Killers and Depeche Mode.
Adrienne O sounds like a modern Blondie singing a mix of The Killers and Depeche Mode.
For Adrienne Osborn, the journey to becoming a full-time musician and lead singer of the indie pop-rock band Adrienne O. has been a long one. The record-breaking two-time national champion water skier and former software developer made a major career change to become the musician and vocal coach that's always been living inside of her. While having the courage to make such a drastic career transition, living life deeply is not just a mantra found woven throughout her songwriting and her band's performances, it is one she embodies in every part of her life, and encourages her audiences to do the same. Her emotionally-charged lyrics and stage presence are her message to fans to embrace everything life has to offer, good and bad, without fear.
Guitarist/producer  Justin Leighton Long  was a  founding member, lead guitarist and songwriter for the band No Address  which  released Time Doesn't Notice on Atlantic Records, their debut single "Sadie (When I'm Gone)" standing at #11 on the Billboard Radio charts for 22 weeks.   Craig DeLeone (drums)  is  a multi-instrumentalist  who has  run a music program for underprivileged kids at Devereux Colorado and is a  community group member of the music-based non-profit Youth On Record.   Tyler William, bassist, has played with various Denver original and cover bands.
With a powerful sound and thoughtful lyrics that rev up the heart and soul, Osborn's band has previously headlined various fairs and festivals including South Park Music Festival and Capitol Hill People's Fair, while also performing at Taste of Colorado and Underground Music Showcase. They recently embarked on several theater performances this past fall, including the Bluebird Theater and an opening slot at the Gothic Theatre, and headined the Gothic Theatre in January 2015. Osborn's goal is to continue providing fans a live musical experience which evokes both energy and tenderness while doing so on an even larger scale.
A foretaste of the one-of-a-kind live performance can be found in Osborn's most popular singles from her band's first two recording projects which reflect an '80s synth-rock sound and are heavily influenced by acts such as Imogen Heap, OneRepublic, Muse, Depeche Mode, Blondie, and The Eurythmics. The debut EP SUPERCHROMATIC (released July 2013) resulted in a Best Pop Song award from the Colorado Music Business Organization's first songwriting contest for the single "Two and Two," and a feature in the film A Remarkable Life with the single "Someone Like Me." The follow-up EP Lines, released less than a year later, was positively embraced by fans and critics alike, with its first single "Take It In" receiving airplay on 93.3 KTCL.
The band will spend this year working on their next project, an EP reflecting a more modern indie-rock sound, which will be released in early 2016. "Just like our live shows, this new album will be emotionally complex, exploring some dark areas while remaining uplifting and inspirational," Osborn describes.
Adrienne O and their music have been featured on 93.3 Locals Only, 107x Project Local, The Colorado Sound, Channel 8 TV's Denver Loft Sessions, Literati Records podcasts, Callywood Radio, multiple KGNU Innervision Top 30 Countdowns, and the 2013 BolderBOULDER Bootlegs CD. The band has played at venues and festivals such as the South Park Music Festival, the Underground Music Showcase, the Taste of Colorado, the Bluebird Theatre, the Gothic Theatre, the Hi-Dive, the Walnut Room, the Larimer Lounge, Nissi's, the Dickens Opera House, City Hall, the Soiled Dove Underground and the Moon Room.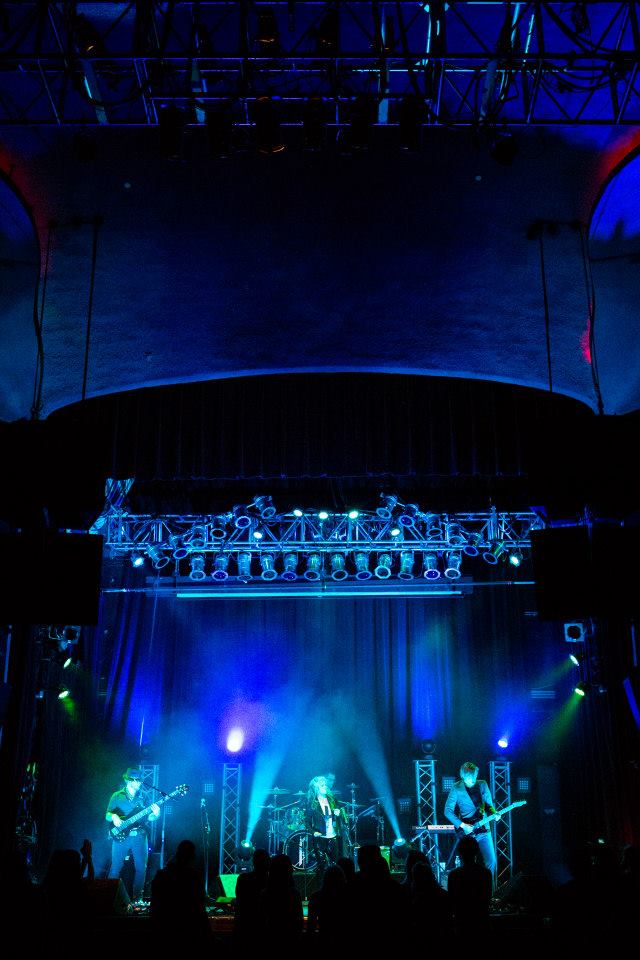 Upcoming Concerts and Parties
Right now we have no shows scheduled, as we're working hard on our third EP.
But we will be returning to the stage in early spring with our EP release party.
We're brainstorming what the party will look like.  We want this to be a different, memorable experience, and we want it to be a gift to you.
The party might involve an immersive audiovisual experience.  Possibly a small invite-only party.  We'd like to try to make it free if we can.  Maybe in a non-traditional venue.  Maybe we won't even be on a stage.  Who knows.
The first people to be invited will be the ones on our mailing list.  So if you're not on it, get on it.  Sign up below (in the footer).

Social